How To Stay Chic While Living Out of a Carry On
Recently I was chatting with my sister and I mentioned some upcoming destinations on our nomad journey. London, the English seaside, and the Cotswolds are on our list this summer, and then likely off to Germany. She immediately said, "You'll have to have some cute outfits for those places".
I said, "But I live out of a carry on bag. It's not easy to look fresh and stylish when you are working with a limited wardrobe". "You should write a post about that", she said. So here we are!
The Art of Carry On Packing
Living out of a small carry on bag and also trying to produce travel blog content (in which I am not wearing the same t-shirt in every photo) is a struggle. Having said that, I have learned a few things in the past 6 months and I feel like I am zoning in on the perfect, chic, travel wardrobe that fits in the duffle bag.
Here are some things to help to reduce, reuse, and land on the perfect, comfortable, stylish wardrobe for your travels.
#1. Pack Basics
If you compulsively read packing lists as I do then you will have heard this 1000 times already. Pack basics. It really is true and the best advice you can get when it comes to getting mileage out of your pieces and being able to mix them up.
Go with basic items that all work together. For me, that means, black, grey, navy, and stripes. Classic black jeans and a striped tee can go a long way, especially if you can change up your shoes and add a necklace to dress it up.
Here are some of the basics are currently travel with:
Black Jeans
Black Leggings
Grey Tank
Black Tank
White Cropped Yoga Tank
Navy Striped Tee
Black Sweater
Navy and Green Plaid Flannel
Black Yoga Shorts
You'll notice that the majority of items are black. Boring? Maybe, but these items are also classic, versatile, and easy to change up to look very different.
#2. Pack Efficiently
Right now I am using a wheelie duffle bag that's carry on sized for our trips. Mine has wheels and a handle as well so I can roll it when I am on the go, and top handles so I can pick it up if I need to climb onto a train or hustle up a flight of stairs.
To make the most of the space I have available, I use space saving bags to pack my clothes. These make a HUGE difference when it comes to how much space I have! I tried packing cubes for a while but ended up donating them as they didn't reduce bulk.
The beauty of the storage bags we use is that they don't require a vacuum to seal them, which means packing to come home is easy. We use space saving bags like these and haven't looked back.
#3. Wear a Lot Onto the Plane
This one sounds ridiculous, but it's absolutely essential. When you are boarding the plane, wear layers and make sure to wear your heaviest and bulkiest items. You can remove these and store them under your seat or in the overhead bin once you board the plane.
Think Joey from friends when he puts on ALL of Chandler's clothes. Okay, maybe not to that level, but definitely layer up!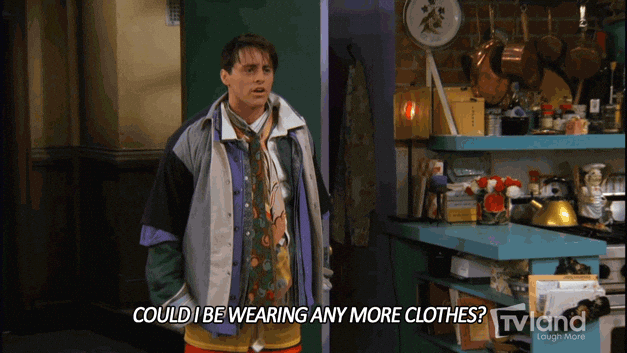 For example, when I board the plan I tend to wear a tee, a button down, a sweater, and a jacket. I also wear whatever my heaviest footwear item is, usually Blundstone boots or runners depending on what I have with me.
Airports and planes themselves are usually pretty chilly, so I often find I can remove my jacket and use my sweater as a blanket and I'm good.
This simple overdressing can remove a couple of bulky items from your luggage and make a huge difference when it comes to space and weight.
#4. Let Your Accessories Do The Work
Accessories are your best friend. Buy a pretty shawl at a market and use it to change up your look. Buy a bold tassel earring at a cute shop in London and add those to your look. Accessories are small, light, and ultra packable. Use them to update your look, dress up a simple tee and jeans, or take a basic dress and make it appropriate for a dressier occasion.
If you can keep your clothes neutral and mix up your accessories your carry on luggage can go a long way.
Here are some of the accessories I bring with me:
Baseball Cap
Packable Panama Hat
Lightweight Infinity Scarf
Medium Weight Wool Scarf
Stud Earrings
Statement Earrings
Packable Mini Blue Backpack
Black Leather Crossbody
I find these items work for most occasions and allow me to keep things fresh. I also sometimes leave a scarf or earrings at home and buy new ones while abroad. Little items like this make a great souvenir too!
#5. Make Your Personal Item Count
Most major airlines allow you to have a carry on luggage item as well as a personal item. My advice, don't take a purse as your personal Item. Find a backpack that can double as a day pack during your trip and use this to carry valuables.
I use a backpack that carries my computer, camera, e-reader, batteries, chargers etc. I also bring water, snacks, and items that would NOT be easy to replace on my travels (like prescription glasses, contact lenses, and any specific oils or supplements don't want to have to look for.
By maxing out your personal item you can get more into your carry on luggage and pack more clothes, bags, shoes etc. It makes a big difference even just getting chargers and cords out of your suitcase, trust me!
#6. Change Your Do
If you're travelling for a long time and find all of your photos are looking the same, trying changing your hair up. Chances are you will need a hair cut at some point on the road anyway, so why not use this change of scenery to try something new.
Not interested in cutting or colouring your hair? Try simply wearing it in new ways to keep yourself feeling fresh. Always wear your hair down? Try wearing a top knot for a change of pace one day.
#7. Rotate and Donate
Another way to refresh your look as you travel is to donate. Consider buying a new piece on your travels and donating the clothes you no longer need along your way. Visiting a cold place and need a sweater? Buy a bulky one and then donate to a shelter or community organization on your way out of town if you're headed someone hot next.
You can also post items on Facebook Marketplace as you travel and give the items you no longer need a new home. This also gives you a bit of cash in your pocket which you can use to get an item you need for the next leg of your journey.
Or use the money for something even more important, like Prosecco.
#8. Borrow
Travelling and meeting up with friends or family abroad? Raid their wardrobes and ask if they mind you using a scarf, jacket or bag for the day. This is a great way to add in some new items into your photos without having to buy new stuff.
Let them use one of your bags and grab one of their cardis for the day. Even adding in one new-to-you item can add a breath of fresh air to your look.
Keep Calm and Carry On
I hope these 8 packing hacks will help you get more out of your carry on luggage on your next trip.
It is possible to look chic, classic, and comfy on your travels without bringing boatloads of stuff! With a little bit of creativity and some smart packing hacks, you can bring everything you need and MORE without checking a suitcase.
Have you done a long trip with a carry on before? I hope you'll try it on your next one! You won't look back.